Full Service Quality
Electrical Service
Your home runs on electricity but that doesn't matter if the power can't get to where it is supposed to go. Your home appliances and fixtures should be up and running – but it is equally important that they are efficient, so that you are not spending more money than you should, and that all the wiring is safe. SharpLine's electrical services provide a wide range of electrical services to make sure all the wiring and electrical works in your home are performing as they should.
Ceiling Fans
Electrical Outlets & GFCIs
Generators
Home Safety Checks
Interior Lighting
Panel Upgrades
Surge Protectors
Troubleshooting
Smoke Detectors
Dedicated Circuits
Installs & Upgrades
Special Lighting

Benefits of Regular
Electrical Unit Checks
You need to call a professional to keep your homes electrical system to work efficiently. Contact SharpLine Home Services and guard your home against damage and injury to your family.
Our electricians take safety seriously! We will make sure your home is 100% safe from potential issues. It's recommended to get yearly checks on your electrical system. By doing these checks you can prevent bigger issues from arising.
Let our experts reduce your stress; call us today at 1 (800) 720-1457. We service Corpus Christi, San Antonio, and The Hill Country.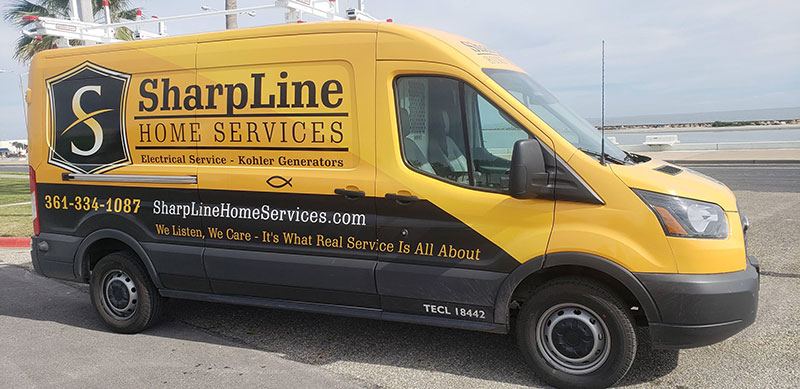 Biggest Electrical
Issues In Your Home
It is scary to think that your family can be in danger and not even know it. Our electricians can solve these dangers in your homes electrical system.   Below are just a few things that could be an issue in your home.
Electrical Surges
Dips in Power
Switches not working properly
Circuit Breaker Tripping
Shocks of Electricity When You Turn a Device On or Off
An Abnormally High Electrical Bill
Light Bulbs Burning Out Frequently
Contact us if experience any of these issues in your home.